article
Putting the Demo Back in Democracy: March Against the Moguls.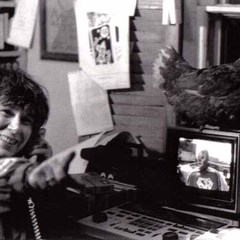 That guerrilla video is now the subject of historical reflection is probably a sign of its demise. There has been a recent flurry of archival and publishing activity centering on experiments made in the '70s. In 1997, the Chicago-based Video Data Bank released Surveying the First Decade, a compilation of work from the early days of video, and Oxford University Press published Deirdre Boyle's Subject to Change: Guerrilla Television Revisited, the definitive study of the video movements of the late 1960s and '70s. These reflections on the utopian impulse in early video provide an opportunity to think about the present state of media in this country, in particular those movements that have attempted to create electronic space for non-commercial views that run counter to the mainstream.


Critical media studies in this country have been curiously ineffectual. What do we have to show for our myriad studies of media violence, our volumes of feminist readings, and our seemingly endless critical diatribes? Action for Children's Television, the one institution that actually effected policy formation, seems to have collapsed into the V chip. It is possible for theory and praxis to collaborate for structural change, however. In Britain, for example, there has been a closer affinity between those who reflect on television in a critical way and those who make it. One can draw a line from the work of Stuart Hall, Raymond Williams, Peter Wollen, Steven Heath, Laura Mulvey and others to the inception of Channel Four, which for all its current shortcomings, is still better than anything in this country. The prolific field of cultural studies in the United States has focused on mass culture, rarely considering marginal or experimental television. Little of this effort addresses alternatives to commercial TV. The works reviewed here are a welcome exception.

Boyle's meticulously researched and well-written book brings cultural studies, broadcast history and critical media scholarship to bear on "guerrilla video." Boyle concentrates on three strands of the video movement of the late '60s and early '70s: Broadside TV of Johnson City, TN; University Community Video (UCV) in Minneapolis; and TVTV, whose trans-geographic crew were from Los Angeles, Chicago and New York City. Broadside was one of the first organizations to regularly produce community programming for cable, though under the aegis of "local origination," rather than public access. It was initially set up as an equipment resource center modeled after the Highlander Center in New Market, a leadership training center that had a major impact on the civil rights movement. UCV was a unique collaboration between a university, public television and local media activists. Community organizations worked with video producers at UCV to make programming on important local issues for regional broadcast on public television. TVTV was perhaps the most famous of the video collectives that roamed the land with lens covers dangling from their ever-ready portapacks. Just as TVTV provided the entertainment value to the alternative video community with their amusing videotapes, so the group provides the excitement and drama for Boyle's book.

Boyle has garnered fascinating stories of program snafus and transcendental moments from TVTV's prolific work. Spunky, restless and iconoclastic, TVTV's tapes were a breath of fresh air in the '70s, in stark contrast not only to stodgy commercial fare but to the overly earnest tapes of the New/Old Left with their documentation of interminable harangues at demonstrations. In Subject to Change, the interviews with TVTV members are lively and humorous, revealing the times in quirky historical documents. Although never willing to take a specific ideological stance, TVTV made the media their critical object - even their instruction sheet - for camera people who defied the standard broadcast mores: "We're not into declarative, explicit action or statements. . . . At best, we want to cover the media covering those actions and cover the people planning for or reflecting on them. The actions themselves are of negligible importance to us."

TVTV brought together great talent both behind and in front of the camera. (On-camera talent included John Belushi, Bill Murray and Lily Tomlin and behind the cameras were Skip Blumberg, Nancy Cain, Paul Goldsmith and others.) They had a way of framing politicians in a context that was more insightful than that of the typical network newscasts, interviewing a tipsy politician in a seedy bar, or a Republican Romeo on the dance floor of a victory celebration. TVTV always let the camera linger long enough to see the grimaces behind the smiles. They would watch as the networks interviewed a politician, and when the network camera would cease filming, and all the lights turned off, TVTV's cameras would stay on to catch the expletives and surly attitude of the impatient politician or the network reporter. Boyle's book is full of these encounters, revealing much about mainstream media and also providing insight into the style and wit of TVTV crews. If Boyle had offered few similar details about UCV and Broadside, it would have strengthened her book.

With the help of people like WNET's David Loxton and the Rockefeller Foundation's Howard Klein, TVTV was able to grab foundation money and occasional channel space from public television for several years for their bold and bright high jinx. TVTV's public TV gate closed when they tried to get away with In Hiding: America's Fugitive Underground - An Interview with Abbie Hoffman (1975). Yippie leader Hoffman had been busted in a cocaine sale setup, escaped from custody and was on the lam for several years. TVTV producer Michael Shamberg expressed surprise that Hoffman's interview would cause such a stir. Certainly Shamberg must have realized that Hoffman was not someone who would be given airtime on the public channels of this country. B. J. Bullert's recent book, Public Television: Politics and the Battle Over Documentary Film (1998), provides countless examples of PBS gatekeeping and the convoluted structures that protect and perpetuate their cautionary stance.

Subject to Change follows TVTV, UCV and Broadside as each group coalesces and finally disbands or, as Boyle points out, is co-opted into other venues. Shamberg became a Hollywood producer of films such as The Big Chill (1983, by Lawrence Kasdan) and A Fish Called Wanda (1988, by Charles Crichton). Allen Rucker is a network talk show host. Paul Goldsmith took up filming commercials. Not only the people were co-opte - the ideas of the movement often reappear in strange convoluted formats, sometimes in direct opposition to the original impetus. Ideas first developed by TVTV have found their way to mainstream TV on shows such as Saturday Night Live. One can easily trace, as Boyle does, the show Cops to some experiments that the video guerrillas did in the early '70s. TVTV's notion of going out with cops on the beat was picked up by Alan and Susan Raymond for Police Tapes which then evolved into Hill Street Blues and eventually into the sort of police shows that have become familiar network fare. Camcorder TV has become the snare for black and Latino youth, "America's Least Wanted," who are caught in the harsh glare of police searchlights.

For Boyle, the early video experiments (however lopsided in terms of sexual politics and multicultural representation) were visionary and noble, yet ill-fated attempts to reform a corrupt system. From my vantage point as a participant/observer, there was an assumption by us "video freaks" that authentic radical video would alter the vision of the viewing public, in the way that many of our own heads were changed by our home-grown stashes or dried mushrooms. There was a belief that the revelatory video of Woodstock consciousness would convince people not to put up with the "vast wasteland" of commercial television, as FCC commissioner Newton Minow pronounced it in 1962. There was no doubt in our own expanded minds that sooner or later everyone would become conscientized. It was only a matter of time before video would change the world. It has, but not quite in the way we envisioned.

It is a sign of our naivete, our faith in the power of McLuhanesque aphorisms and perhaps our impatience with boring meetings that most did not spend much time thinking about concrete strategies for changing the world - even that part of the world that most concerned us: media policies. That these three groups did not survive is a result of changing times, and their reluctance to undertake the exhausting and thankless work of infrastructure development. It is also an indication of the difficulties of funding long-term progressive initiatives. Those few who were able to nurture an infrastructure for production, training and distribution have survived: for example, New York City's Downtown Community Television (DCTV) and Appalshop in Whitesburg, KY. Hopefully the history of these groups will be included in a future Boyle study.

Public access also deserves thorough analysis. Access has received a bad rap - belittled and denigrated by the mass media, it was also ridiculed by video cowboys/artists like TVTV who tended to see the masses not as potential colleagues, but as subjects for their extra-wide angle lens. The local origination folks such as Broadside saw pure "first-come/first serve" open access as a threat to their own control, and the university/art world savants at media centers were embarrassed by the rabble factor. Boyle's analysis isn't concerned with organizations and people who specifically promoted and provided authentic public access, who have kept the faith in unfettered media democracy, despite the uneven programming and administrative demands that are required. Of all the attempts at media "revolution," public access has perhaps been the most successful, the most democratic and the most enduring. As such, it is the most radical and therefore the most subject to corporate disinformation attacks. It is also the most in need of the sort of careful analysis and historical perspective that researchers such as Boyle provide.

Subject to Change ought to be considered along with two other recent works of historical reflection on U.S. media: Robert McChesney's Telecommunications, Mass Media and Democracy and Ralph Engelman's Public Radio and Television in America: A Political History. If Boyle's comprehensive book signals the end of guerrilla TV, these volumes may likewise signal the end of the dreams for the reform of broadcasting policy in the U.S. The airwaves of this country were initially licensed to commercial entities with the requirement that they broadcast "in the public interest." In much the same way that Ronald Reagan counted ketchup as a vegetable for school lunches, the Federal Communications Commission (FCC) considers home shopping programs to serve the "public interest" (by providing consumer information). McChesney looks back at the invention and development of "public interest" in the late '20s and early '30s, when there was a genuine movement for such an ideal. Educators and labor unions at that time formed a powerful alliance to work for non-commercial broadcasting. McChesney has rescued this fascinating history from the dust bin of union and Congressional archives. His book provides an historical case study for collaborative media activism. That those efforts failed does not diminish their importance as lessons for today.

Engelman's Public Radio and Television in America: A Political History, examines the problems and prospects of "public" broadcasting in this country. The book appeared just as PBS opened their channels to full-blown advertising. Entities such as Archer Daniels Midland, one of the cornerstones of rapacious agribusiness (caught in 1995 in a massive price-fixing scandal, which is discussed in James Ledbetter's Made Possible By . . . : The Death of Public Broadcasting in the United States [1997]), "underwrites" and now advertises on the "NewsHour." The reliance on contributions by big players ensures that the one nightly forum for "public" news is free from any content that might criticize the more brutal and corrupt aspects of globalization and other forms of corporate profiteering.

Faced with the dismal prospects for any authentic "public interest" or non-commercial, non-corporate "public" broadcasting, it is useful to look at some of the early attempts at visionary alternative television, such as those in Boyle's book, and to reflect upon the utopian rhetoric that accompanied the origins of public broadcasting that Engleman has unearthed. Engleman began his research as a study of public radio and television, but along the way he began to broaden his definition of public broadcasting to include public access and Pacifica-owned radio stations, which are audience-supported, such as WBAI in New York City and KPFA in the Bay Area. It can be argued that these are more authentically "public" forms of broadcasting than today's PBS and even NPR. Engleman's book explores the creation of public access and Pacifica in addition to a detailed overview of the efforts to create a government supported (but not government controlled) non-commercial radio and television system. Of particular interest is the role of liberal foundations in these efforts. The Ford and the Rockefeller Foundations were extensively involved in the early stages of public broadcasting, supporting creative programming initiatives, such as the innovative Great American Dream Machine and the TV Lab, and funding research on technology and governance.

This historical initiative has been hi-jacked by the right wing, using multi-lateral strategies of harassment on the one hand (i.e. the attacks on public funding by the likes of David Horowitz and Peter Collier) and underwriting and production of conservative programming on the other. This has given national voice to right-wing ideologues such as Ben Wattenburg, Peggy Noonan, Fred Barnes, Tony Brown and of course William F. Buckley. This influence on public television is part of a successful campaign by conservatives to control public discourse in this country. A recent report by Sally Covington of the National Committee for Responsive Philanthropy, Moving a Public Policy Agenda: The Strategic Philanthropy of Conservative Foundations, shows how hundreds of millions of dollars were spent in the last decade for university programs, think tanks and media production "to create and sustain an infrastructure of policy, advocacy and training institutions committed to the achievement of conservative policy goals."(1) Twelve foundations, including Heritage, Sciafe, Olin, Bradley and Smith Richardson, have strategically placed a major share of their grant money into media work and policy development. Although these foundations are not as large as some of the liberal foundations, their funds are being spent in more strategic ways with clearly defined political goals. Support for policy and media projects by the so-called liberal foundations is a pittance and is doled out on a project-by-project basis, with little or no attention to infrastructure building. The right's well-orchestrated attacks on public cultural entitlements such as the National Endowment for the Arts and the National Endowment for the Humanities, in strategic collaboration with the attacks on public television, are specifically aimed at curtailing visionary and/or critical progressive content in any national forum. Any oppositional voice has been effectively kept from the public debate. Except, of course, the fight, whose radical positions now serve to "balance" talk shows, and to push the so-called center to their side.

Where might we find a national broadcast system that has a public interest mandate and the vision to fund creative and challenging media work? Ironically, German TV has been an important source of funding for innovative work from the U.S. for over three decades. Artist/producers such as Yvonne Rainer, Greg Bordowitz, Mark Rappaport, Su Freiderich and many others have received support and been broadcast by state television in Germany, whose public service broadcasting was set up by U.S. officials under the Marshall Plan. Sadly, the European noncommercial systems are being whittled away by pressures from global lending institutions. The pressure to privatize broadcasting and to allow public service airwaves to be taken over by global media programming and multi-national commercials is a trend in India and in Eastern and Western Europe. In the U.S., public broadcasting depends on tightly scrutinized budgets from Congress and on programming underwriting by corporations and thus was never funded adequately - an inherently corrupt situation. The subtle configurations of this fiscal dependency are well documented in Engleman's book. What little visionary programming that has been eked out in 30 years of "public" television, has been for the most part due to the occasional commitment of a few liberal foundations working in concert with a few state or national arts and humanities administrators.

Is help on the way? The New York-based Soros Foundation is taking on media as one of the priorities of the liberal Open Society Institute, hiring as a senior fellow Jack Willis, former head of Minnesota Public Television and producer of the legendary Great American Dream Machine. Willis is one of the few visionary public TV producers to actually survive the system. Willis feels that the expansion into digital channels provides an opportunity to reassess the structure and goals of public television, especially in regards to local service. There has been an historic tendency to always look to the next technical development (in this case digital channels) for that utopian media dream, rather than address the fundamental problems with the present system as a whole. The idea of revisiting the original notion of a public-interest broadcasting system is intriguing for those of us with deep scars from years of doing battle against that fortress of the present system. However, to expect major restructuring is unrealistic even with Soros's deep pockets.

The literature discussed in this article provides an excellent starting point for future initiatives in media reform. It is crucial that the period that McChesney describes (1928-1935) be studied, not only for what it says about the potential for a coalition of public interest organizations, but also for what it has to say about the role foundations can play in supporting visionary projects. Much of the public-interest broadcasting movement that coalesced in the early part of this century was supported at crucial moments by the Payne Fund, a small liberal foundation. Strategic generosity at this time in history could have similar importance. As Engleman so eloquently reports, people at the Ford and Rockefeller Foundations did try to open up the discourse in the initial stages of educational public TV, and their successors could play a similar role today. Boyle's book reminds us that the U.S. has a rich history of creative and dynamic video guerrillas, and that it is important to nurture and support innovative media work by finding a place for it within our national public sphere.

In the last several years, the Institute for Alternative Journalism in collaboration with many media activists and organizations, has coordinated two large national meetings to discuss the unfulfilled potential of U.S. media and the problems that need to be addressed. These meetings, Media and Democracy I and II (San Francisco 1996 and New York City, 1997 respectively) however problematic (and there have been many .criticisms of the plenary programs especially) are nevertheless hopeful signs that the bright and energetic people who work in media, both mainstream and marginal, can come together to create new structures for collaboration and resistance to commercialism.

The conferences have inspired local initiatives in Seattle, Toronto, Los Angeles, Chicago, Philadelphia and other cities. In St. Louis, the Cultural Environment Movement has likewise organized meetings and is conducting research under the leadership of George Gerbner. In New York City there has been action by the New York Free Media Alliance, moving beyond conference panels and academic studies to organize workshops on pirate radio transmission and Internet videocasting. Along with Paper Tiger, the New York chapter of the National Association of Broadcasting Engineers and Technicians (NABET), The Communications Workers of America, FAIR (Fairness and Accuracy in Reporting) and many other organizations, New York Free Media coordinated a large demonstration outside the headquarters of the media conglomerates, in conjunction with the New York Media and Democracy Congress. The March Against the Moguls is documented on a Web site (www.papertiger.org) and in two half-hour video tapes that are available from Paper Tiger: Putting the Demo Back in Democracy, Parts 1 and 2. The Bread and Puppet Theater was there with giant "running dogs of the media," reporter "hounds" and paparazzi wagging their tails. It felt like the scene in the movie Network (1976, by Sidney Lumet) when everyone says "We won't take it any more," only this demonstration was more fun, more culturally diverse, better researched and documented - there were camcorders everywhere. Among the speakers was a brilliant rap poet named Shank, who took up the title of Danny Schecter's new book, "The More You Watch, the Less You Know!" (1997), and gave it a beat. The glass and steel canyons roared when the crowd chimed in. Tourists in Times square gave the demo a thumbs up and even the police who were kept busy adjusting the sawhorses, as more and more people joined in, nodded in agreement. As a participant, I have never been in a demonstration in which I felt more empathy from the passersby. It hopefully indicates that the public isn't going to take it much longer. For the first time since the 1930s, there seems to be a media movement.

A sustainable media movement in this country has to go beyond those who make, write about and critique media to include labor, educators and liberal religious leaders - the same constituency that came together in the '20s and '30s. These days there are some new elements. A major component is the media literacy movement, which has attracted parents and educators, a grassroots expression of critical reaction to commercial media. This time around, there are thousands of community channels each with hundreds of producers in the public access centers across the land. These producers, often disaffected iconoclasts, not as sophisticated and clever as TVTV's guerrillas, are nevertheless committed to local, non-commercial media. They are battle-scarred but stalwart veterans of on-going skirmishes with their local cable monopolies. They are a grassroots constituency undreamt of by former media reform movements. There is also a clear indication from national polls that "the media" are viewed with cynicism by the public and that despite Neilson ratings, there abides a strong current of deep distrust of our information industries. To rally that sentiment into positive concrete action takes a great deal of work - the kind of careful planning and organizing that the New York Free Media Alliance did for the Mogul demo and the Institute for Alternative Journalism did for the Media and Democracy Congresses. It also needs the kind of watchdog research that Fairness and Accuracy in Reporting, Nolan Bowie, Gerbner and others have done and continue to do. It takes the serious commitment of historians such as Boyle, McChesney and Engleman to point out what is possible. But to make real change happen, we need the TVTVs, the UCVs, the Broadsides and closer to home, the Paper Tigers and the Deep Dishes to point to the impossible.

Notes

1. Covington's report can be obtained by contacting the National Committee for Responsive Philanthropy, 2001 South St. NW, Washington, D.C. 20009. (202) 387-9177. FAX: 332-5084. E-mail: ncrp@aol.com.

Deedee Halleck, co-founder of Paper Tiger Television and Deep Dish Television, is Professor of Communication at the University of California, San Diego.

Deedee Halleck "Putting the Demo Back in Democracy: March Against the Moguls. - video recording reviews", originally in: Afterimage, Sept-Oct, 1998.

Video by Paper Tiger Television (two 30 minute programs) distributed by Paper Tiger Television.

Bibliographic note:

Subject to Change: Guerrilla Television Revisited
By Deirdre Boyle; Oxford University Press, 1997.