Person
Shahidul Alam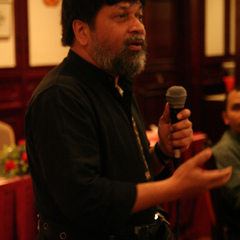 Shahidul Alam is a photographer, internet pioneer and activist from Dhaka, Bangladesh. He is also the founder and director of the Drik picture library and media-centre in Dhaka.

Shahidul Alam was born in 1955 in Dhaka, Bangladesh. He studied and taught chemistry in London where he obtained a PhD (Doctor of Philosophy) from the University of London. He started photography in 1980 and was awarded the Harvey Harris Trophy for being judged the best photographer of the year by the London Arts Council in 1983. He became the president of the Bangladesh Photographic Society where he served for three terms.

In 1989 he set up Drik picture library and Pathshala: South Asian Institute of Photography. He is also a director of Chobi Mela, the festival of photography in Asia, jury member of numerous competitions including World Press Photo where he has been a judge on four occasions, he was the first person of colour to chair the international jury in World Press Photo history.

Alam was the first Asian recipient of the prestigious Mother Jones Award for Documentary Photography. His numerous other awards include the Andrea Frank Foundation Award and the Howard Chapnick Award. He has also been awarded the Honorary Fellowships of the Bangladesh Photographic Society and later, the Royal Photographic Society in 2001, for his contribution to photography.

He is on the advisory board for the W. Eugene Smith Memorial Fund and the National Geographic Society. He is visiting professor of Sunderland University in the UK and Regent's Lecturer at UCLA in the USA. Alam is the founder chairman of Majority World, a global community interest initiative formed to provide a platform for indigenous photographers, photographic agencies and image collections from the majority world to gain access to global image markets.

On June 16th, 2009 he was detained by the Indian Border Security Force while working on a project based on the river Brahmaputra at the Bangladesh side of the Rowmari-Sahapara border at the district of Jamalpur but was released after an international campaign was taken up for his release.

He is currently setting up the South Asian Media Academy. His current exhibition "Crossfire" has been widely acclaimed, but was closed down by the police leading to nationwide protests. The police barricade was removed soon after Drik's lawyers served legal notice and the lawyers had moved the Court, and after Government lawyers i.e., the Attorney Generals office, had contacted the Dhaka Metropolitan Police Commissioner's office, and the Home Ministry, during the hearing on the government. The court commented that even after repeated rules had been issued on the government, crossfire had continued to occur. The court's response and subsequent events enabled Drik to open the exhibition for public viewing.