Person
Zach Blas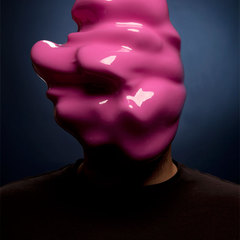 Zach Blas is an artist and writer whose work engages technology, queerness, and politics. Currently, he is an Assistant Professor in the Department of Art at the University at Buffalo.
Blas has exhibited and lectured internationally, most recently at Museo Universitario Arte Contemporáneo, Mexico City; Museum of Modern Art in Warsaw; the 2014 Museum of Arts and Design Biennial, New York; the 2014 Dakar Bienniale; Institute of Contemporary Arts, London; Queer/Art/Film LA; quartier21, MuseumsQuartier Wien; Center for 21st Century Studies, University of Wisconsin-Milwaukee; transmediale, Berlin; and Foundation for Art and Creative Technology, Liverpool. In 2013-14, he was a resident at Eyebeam in New York City, The White Building in  London, and The Moving Museum in Istanbul.

Currently, Blas is producing a body of artwork that responds to technological control and refusals of political visibility through tactics of escape, disappearance, illegibility, and opacity. One project, Facial Weaponization Suite, produces "collective masks" in community-based workshops that cannot be detected as human faces by biometric facial recognition technologies. Another, Contra-Internet, explores the aesthetic and political subversions of and alternatives to the Internet.

Blas is also producing two books, Escaping the Face, an artist monograph of recent works to be published by Rhizome at the New Museum, and Informatic Opacity: Biometrics and the Aesthetics and Politics of Defacement (solicited by Duke University Press), a theoretical study that considers biometric facial recognition as an emerging form of global governance alongside aesthetico-political refusals of recognition, such as masked protest.

Blas has published writings in The Journal of Aesthetics and Protest; You are Here: Art after Technology, published by Cornerhouse Books; DIS Magazine; Women Studies Quarterly, The Feminist Press; Feminist and Queer Information Studies Reader; Depletion Design, Institute for Network Cultures; Leper Creativity, Punctum Books; Version; Rhizome; and co-edited The Transreal: Political Aesthetics of Crossing Realities, published by Atropos Press.

His work has been written about and featured in Artforum, Frieze, Art Papers, Hyperallergic, Rhizome, Mousse Magazine, The Atlantic, Al Jazeera America, The New Inquiry, Leonardo Electronic Almanac, Wired, and Art Review, in which Hito Steyerl selected him as a 2014 FutureGreat.
Blas holds a PhD from the Graduate Program in Literature at Duke University.
Artist website:
www.zachblas.info