Person
 Sarai - The new media initiative, Delhi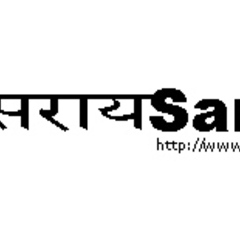 Sarai is a programme of the Centre for the Study of Developing Societies, (CSDS) one of India?s leading research institutes with a commitment to critical and dissenting thought and a focus on critically expanding the horizons of the discourse on development, particularly with reference to South Asia.


We are a coalition of researchers and practitioners with a commitment towards developing a model of research-practice that is public and creative, in which multiple voices express and render themselves in a variety of forms. Through these practices that range from art practice to publication, academic research to the organization of discursive events, setting up of media labs and creative practices in locality labs in disadvantaged neighbourhoods of the city, reflecting upon the culture of freedom, in speech and in software, we have sought to participate in and cultivate a public domain that seeks to find a new language of engagement with the inequities, as also the possibilities, of the contemporary world.

Over the last ten years, the Sarai Programme has matured into what could arguably be South Asia?s most prominent and productive platform for research and reflection on the transformation of urban space and contemporary realities, especially with regard to the interface between cities, information, society, technology and culture. Sarai has also been a robust platform committed to critical discourse, freedom of expression and the exploration of the relationship between human rights, civil liberties and the efforts to ensure the viability of democratic ethic with regard to media and information practices.

With around twenty-five full time researcher-practitioners based in Delhi, a fully operational media lab that produces in a wide range of media ? from print, to video, to html, a network of more than seventy practitioners based in Cybermohalla labs, participants in events and colloquia, writers, readers, members of mailing lists and associates in different fields, in different cities, especially in Bangalore and Mumbai ? we can conclude that Sarai?s constituency has grown to embrace an enormous and dynamic diversity.

What Sarai Does

Sarai researches the urban experience, the city, the publics and practice of (old & new) media, "information and society", free  & open source software, language and digital cultures and the interface between urban transformation, contemporary culture, and development. Sarai research has flowed into conferences, books, articles, art Installations and even school textbooks. Our researchers Include scholars and practitioners. Sarai places a premium on the research process as a whole, rather than just the final outcome. This means that Sarai research material continually reaches the public domain through collaborative mailing lists, CD's, small essays, apart from conferences and research articles.

Sarai publishes books (The Sarai Readers, The Deewan-e-Sarai and the Series), pamphlets (The Media Nagar Series), broadsheets (Sarai.txt, Cybermohalla Broadsheets) and occasional publications ('By Lanes', 'The Book Box' etc.) on paper as well as on the web. All Sarai publications are copyleft and maybe freely downloaded for non commercial & edycational use from the Sarai website. 

Sarai embodies a continuing engagement with creativity in urban neighbourhoods through the 'Cybermohalla' Project in collaboration with a 'Ankur' Society for Alternatives in Education, a Delhi based NGO with a proven track record of more than two decades of work in the field of critical pedagogy and community mobilization in poor neighbourhoods in the city.

Sarai supports a growing network of independent researchers, practitioners and students all over India through fellowships and stipends. Over the last five years we have supported more than 400 independent researchers from all over the country.Many of these come from small towns such in the hinterland and in spaces marked by conflict such as Jammu and Kashmir and the North East. Half the proposals that have been supported have been sent in by women, a significant proportion of supported candidates belong to ethnic and religious minorities and oppressed communities. All the proposals investigate areas that would find little or no support, either in academia, or in mainstream media, although several of the candidates have gone on to make further meaningful work in academia and the media, to a large measure due to the ground that they were able to cover in the course of the Sarai independent research proposal. 

Sarai invites critical reflections on the nature of the contemporary moment, by holding regular screenings and discussion of curated programmes of fiction, documentary and experimental films and video, and by acting as a convivial context for online and offline conversations through discussions, mailing lists and blogs in English and Hindi at the Sarai space and on the Sarai website.

Sarai engages with the Hindi/Hindustani public domain through publications, translation, lists, web content, software localization, events and workshops.

Sarai  organises events such as - conferences, seminars, workshops, summer schools,  colloquia, colloquia and hosts occasional residencies around themes  thatthemes that reflect the programme's intellectual and creative interests.

Sarai produces media  (video, audio, print, web) and contemporary art works, CDs, radio and software. Works produced at the Sarai Media Lab have been exhibited in several international venues such as Documenta11, and the Venice, Liverpool and Taipei Biennales.

Sarai collaborates with organizations and initiatives locally, regionally and internationally/globally on events, processes, networks, projects and publications.

Sarai reaches out to students and faculty in colleges, institutes, university departments and student societies to organize talks, discussions, readings,  screenings, screenings, informal interactions and conversations.

Sarai archives different facets of contemporary popular culture, urban space and media forms with a view to making information about them available to a wide public of researchers and practitioners.