Person
Bas Raijmakers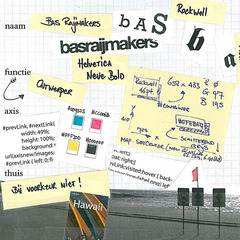 Bas Raijmakers is the creative director of STBY. Since the early nineties he has worked in the internet and media industry as consultant and research manager. He holds a master degree in Communication Sciences from the University of Amsterdam (1990) and a PhD degree in Design Interactions from the Royal College of Art in London (2007).
Bas is fascinated by how people use, understand and appreciate media in contemporary popular culture. Since the rise of public internet his focus has been on new media, ranging from hacker cultures to more mainstream uses of the internet. In his many research projects he has seen that it is the people who use new media offerings, not seldom in unanticipated ways, determine the true meaning and value of it.

In 1993 Bas co-founded ACS-i media research projects which grew to a 25 people enterprise, closely working together with ad agencies and IT-developers. In 2000 ACS-i was acquired by Lost Boys and Bas continued to work at Lost Boys as Usability Director until the end of 2002.

Over the years Bas has broadened his field of work from mainly web and usability focused to ubiquitous computing (mobile and wireless) and user experience research.

From 2003 onwards, in parallel to his work for STBY, Bas conducted a PhD-research at The Royal College of Art in London. He focused on how Design Documentaries can inspire interaction designers, rather than limit them in their creative freedom with mainly text-based reports. His supervisors were Prof. Bill Gaver (Goldsmiths College), Prof. Stella Bruzzi (Warwick University) and Prof. Anthony Dunne (RCA).