Person
Daniel Velden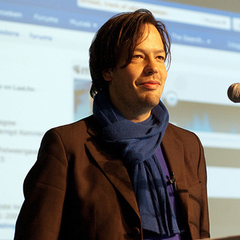 Daniel van der Velden is a graphic designer and writer. He graduated from the Willem de Kooning Academy, and studied in Maastricht at the Jan van Eyck Academie under Michael Rock, Armand Mevis, Paul Elliman, Karel Martens and Jan van Toorn.
Daniel ran a graphic design studio together with Maureen Mooren from 1998 to 2007, working on innovative projects in the field of editorial and identity design. Clients included the architecture journal Archis (now Volume), TNT Post (former Dutch PTT), the Holland Festival, and many more.
Daniel joined forces with Vinca Kruk after he initiated the Sealand Identity Project at the Jan van Eyck Academie. They subsequently founded Metahaven, a studio combining design, research, and writing.
Daniel is a Senior Critic at Yale University, where he joined the Graphic Design MFA's faculty in 2007. He is a tutor at the Sandberg Institute in Amsterdam. He lectured at the University of Amsterdam school of Media Studies, and has served as an advisory board member at the International Design Forum in Ulm.