Person
Marianne Maeckelbergh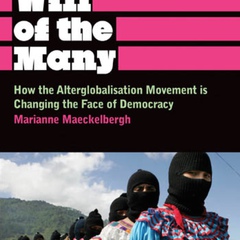 Marianne Maeckelbergh is Lecturer in Cultural Anthropology and Development Sociology at Leiden University, the Netherlands. She is author of The Will of the Many: How the Alterglobalisation Movement is Changing the Face of Democracy (Pluto Press, 2009) and is a member of the World Financial Crisis Research Group.
Marianne Maeckelbergh studied at the School of Oriental and African Studies (SOAS), University of London, where she obtained her MA in Social Anthropology of Development in 2002. She obtained her PhD in Social Anthropology from the University of Sussex, UK in 2008. She has been Assistant Professor in Cultural Anthropology and Development Sociology at Leiden University since February 2008.
Research

In her research Marianne Maeckelbergh explores everyday practices of democracy and radical politics within social movements and citizen projects. She studies prefiguration as a strategic movement practice to raise questions about how democratic values change when practiced on a global scale through network structures instead of nation-states.

Since the start of the economic crisis, her work has focussed on the growing distrust of representative democracy and capitalism that is currently being expressed transnationally. Most of her recent fieldwork has explored responses to the economic crisis in Spain and the US, but this research has been contextualized in relation to small amounts of research in Bosnia-Herzegovina, Egypt, Greece, Portugal, Turkey and the UK. She explores what this multiplicity of struggles across geographic distance share in common, as well as how each location's particular history shapes the protests' trajectory.

The development and use of new digital technologies within these movements has been a key research interest, particularly how the diffuse networked space of digital technology functions in combination with the centralizing spacial configurations of urban space and place. The research has been disseminated through written publications as well as an online film series available at Global Uprisings.