Person
Omar Robert Hamilton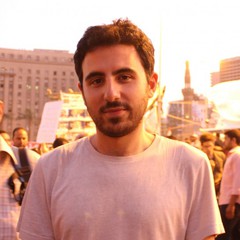 Omar Robert Hamilton is an independent filmmaker and the producer of the annual Palestine Festival of Literature. He was born in London in 1984, and studied English Literature at Wadham College, Oxford. He now lives in Cairo.
He is in pre-production on his third short film, Though I Know the River is Dry - a crowdsourced short film, shooting in Palestine in early 2012. His first short, When I Stretch Forth Mine Hand, an experimental film made in collaboration with Suheir Hammad?s poetry screened at fifteen international festivals. His second, Maydoum, recently premiered in competition at the 2010 Dubai International Film Festival, and stars Khalid Abdalla (United 93, the Kite Runner).
His documentary films have been shown on al Jazeera, Dream and Tahrir TV among others; his photographs have appeared in the Guardian, BBC News, the Economist, al Shorouq, the Daily Beast and he has written for various publications, including the Guardian, the BBC and the Big Issue.
He was one of a group of film-makers and artists that started the recent Tahrir Cinema initiatve and is now working with Mosireen, a media collective in Cairo.