Person
Oliver Ressler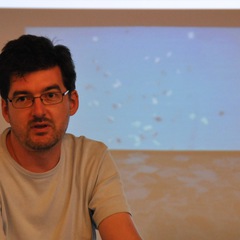 Artist and flimmaker

Born in Knittelfeld, Austria, in 1970, lives and works in Vienna.


Artist Statement

In my artistic work, I analyze and criticize power relations in our current society, but I seek to go beyond a simple analysis and criticism. Several of my works focus on forms of resistance found in the so-called counter-globalization movement and in the emerging social movements that fight the response (or non-response) of states and corporations to climate change. My projects deal with major issues and include valuable information, but transcend a simplistic delivery of content. Who speaks is of big importance to my work; speakers are often grassroots activists or workers usually not listened to by anybody. These people share a passionate commitment to overcome the current capitalist system.

Resistance can only succeed when people struggle for a common goal. If people resist the economic and political system, ideas must be developed on the specific forms of an alternative and more democratic society. Mobilization goes hand-in-hand with projecting a utopia. When conceiving new models for alternative formations of society and economy, a central role should be played by principles such as self-government, self-management and direct decision-making. In contradiction to what corporate media try to make us believe about Venezuela, the country has well developed forms of popular participation in direct decision-making. Thus, in recent years, my work has focused on the Bolivarian Process in Venezuela.
I do my work within the field of art, but at the same time, I need to go beyond and not to limit my work only to the art world. Therefore, my films are available for presentations by activists. The art scene was not at all connected to most screenings of my three films on the counter-globalization movement, or my three films on the political processes in Venezuela. Therefore, my work blurs the boundaries between art and activism. I also produce posters, billboards, billboard-objects, and magazines that intervene directly in public urban spaces and address political issues through different methods. These works attempt to support progressive social processes and to contribute toward a change in society.

Social change can only be achieved in cooperation with other people; this is also reflected in my own work, which is often done in collaboration with others. Over the years, I have worked with the artists Zanny Begg (Sydney), Ines Doujak (Vienna), Martin Krenn (Vienna), Gregory Sholette (New York), David Thorne (Los Angeles) and the political scientist Dario Azzellini (Caracas/Berlin).

Source:

www.ressler.at/biography